Preventative Care for Kids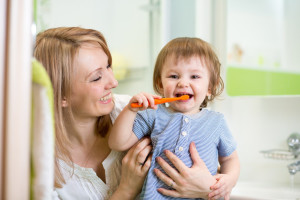 There's nothing quite like a beaming smile that radiates from a child's face. Keeping that smile healthy and beautiful is what preventative dentistry for kids is all about. Like other great things in life, preventive care requires diligence and commitment in order to be successful. Without it preventative care, painful and potentially expensive dental problems can swoop right in and severely damage your child's smile, as well as their overall health.
The process of keeping a child on the track to oral health excellence is multi-faceted, but not out of reach. It involves proper dental care habits at home, parental involvement, and the professional care of an experienced pediatric dentist. Here's a look at how it can promotes a strong smile and lays the foundation for positive overall health.
Regular Dental Visits & Daily Care
Regular trips to a dentist's office and scheduled cleanings aren't just for adults, but for the little ones as well. A regimen of daily brushing and flossing (often needing parental supervision) is essential to preventing decay and building a strong foundation of healthy habits for the future. In addition, as early as before a baby's first birthday, the American Dental Association advises that an infant see a pediatric dentist to examine their teeth and uncover any possible dental problems early on. Following that, routine check-ups every 6 months are generally recommended. During these visits, the dentist will cover things such as:
Assessing cavity risk

Examining the condition of baby teeth and/or the development of permanent teeth

Looking for signs of gum disease

Discussing oral health habits and proper nutrition with both parents, and child
Professional Cleanings
At the end of the day, getting children to stick with the routine of brushing and flossing every day is challenging. They frequently resist the task altogether, but even if they don't, the result of their attempts can leave plaque behind. In order to remove plaque entirely and stop cavities in their tracks, professional cleanings are necessary.
This may seem daunting as a parent because many children (and adults for that matter) are apprehensive about the cleaning process. That's why, at Samaritan Dental Arts, our highly trained staff strives to put every patient at ease by creating a positive environment, and utilizing a touch that is as gentle as it is effective.
Sealants
Another aspect of pediatric preventative care involves different treatments that are able to help keep teeth clean and protected. One of these options is the various sealants that are available. Made of a thin layer of plastic material, sealants are applied to areas such as the nooks and crannies of the back teeth, in order to block decay from occurring.
They are easily painted onto the tooth's enamel, and once applied they harden and cure to form a strong barrier that can last for years. The detrimental powers of food, acids, and plaque are sealed out, making sealants a beneficial treatment for kids, adolescents and adults alike.
Fluoride Treatments
Research has shown that fluoride, a mineral found naturally in water, can prevent and even reverse the process of tooth decay. Topical applications such as fluoride varnish may be recommended by your dentist to protect your child from getting cavities. This will of course depend on the specifics of your child's oral health and on the current level of fluoride received from other sources.
Applied with a small brush, the varnish coats all sides of the teeth and hardens when it comes in contact with saliva. In general, the varnish needs to be applied multiple times a year to pack a strong preventative care punch, making regular visits to your child's dentist extremely important.
Protecting Your Child's Smile With Samaritan Dental Arts
Preventative care for kids is instrumental in ensuring their smile stays healthy. While this can require a good deal of attention and dedication, the results can ultimately affect how a child looks, how they feel about themselves, and how your little one cares for their teeth in the future.
Our experienced staff at Samaritan Dental Arts understands that children and visits to the dentist are sometimes a challenging mix. We do our best to create a kid-friendly environment where dental procedures and treatments are handled with compassion and care, and where children can be educated about dental care in unique and fun ways. If you are looking to protect and maintain the health of your child's smile, call us at 213-267-2876 or schedule a checkup at our Los Angeles office today.
Dr. Alan Zabolian is a proud member of