Invisalign Braces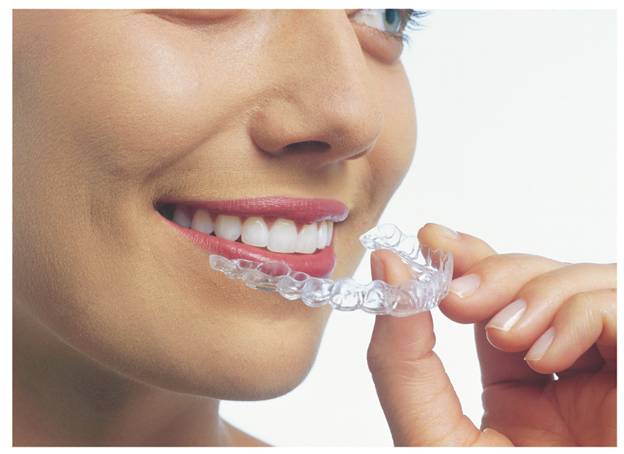 The Clear Benefits of Invisalign Braces
If you have always wanted straighter teeth, but dreaded the prospect of metal braces, your ideal solution is here! Invisalign braces can now be used to give you a straighter smile and better alignment without the need for unsightly metal brackets. At a certain point, most of us look at our smile and wonder if our teeth could be straighter. For some people, this happens in their early teens. For others, the opportunity for braces doesn't come around until later in life, or maybe priorities shift and you decide braces could give your smile the boost it needs for you to be truly confident in it. Sadly, many people are put off by the idea of uncomfortable and unattractive metal braces that ruin your smile and hurt your teeth and gums.
Fortunately whatever your reasons for wanting braces, and no matter what age you are, there are alternatives to the old-fashioned metal brackets most people think of when they imagine the process of straightening out their teeth. This is great news for anyone who is unhappy with their smile, because the prospect of having a mouth full of visible metal braces is rarely welcome. Invisalign braces are a popular procedure in the cosmetic dentistry that we specialize in here at Samaritan Dental Arts. It allows you to start your journey to a better smile and feel great about it, rather than dreading the pain and inconvenience of traditional wire braces.
How Do They Work?
"Invisalign" is a series of custom-molded plastic trays that gradually shift your teeth to improve their appearance and bite. The best part is that Invisalign's clear plastic trays almost always go unnoticed by the people around you.
Rather than endure the unwanted attention that metal braces can bring, you can enjoy the benefits of Invisalign braces without anyone being the wiser. Also, although each case is different, it typically takes less time to achieve a great smile than you might think. These modern braces are just as effective as traditional metal braces, but they are much less obtrusive than the old-school wires most people think of. We believe that the way to a straighter, more even smile shouldn't include painful and ugly metal bands across your teeth. Instead, we choose Invisalign to give you the smile you deserve, without the pain, discomfort, and unwanted attention to your mouth.
Invisalign braces are custom-fitted to your teeth via a molding done in our office. Then, strong plastic polymer is used to make a clear cover of sorts that fits snugly over your teeth and gradually moves them into position. As your teeth shift, progressively different covers will be applied until your teeth have shifted into a beautiful smile you'll be proud to show off. The trays are easy to keep clean, and are nearly invisible at any distance. They also stay more or less flat against your teeth so there will be no uncomfortable bulges against the insides of your mouth, or risk of damaging your cheeks and gums on the metal wires and studs of traditional braces.
Say Goodbye to Metal Braces
Anyone who has had traditional braces can tell you that, in addition to the unappealing way they look, the new hygiene routine you have to adopt can be a major pain . Cleaning between your teeth and flossing under the wire become a daily battle, and food constantly gets stuck in the brackets.
With Invisalign braces, there is no need to change your regular oral hygiene habits. Simply remove the transparent plastic trays from your mouth, and you can eat and clean your teeth the same way you always have. Furthermore, since Invisalign
Get a Straighter Smile with Invisalign
If you are ready to revamp your smile, Dr. Zabolian and the friendly staff here at Samaritan Dental Arts are here to help. See what a difference these innovative braces can make in your life when you visit us your dental needs. Schedule your appointment today at our Downtown Los Angeles office or contact us for more information. With Invisalign, you'll be able to get the straight and winning smile you've always wanted, without the hassle and unwelcome look of traditional metal wire braces and brackets.
We know how important a smile can be to your confidence, and we want you to be proud of yours. We've helped hundreds of happy people become more comfortable with their smile, and we'd love to add you to this ever-growing number. Dr. Zabolian has years of experience giving people the smiles they deserve. Call us today or come by if you're in the Los Angeles area. You'll be glad you did.
Dr. Alan Zabolian is a proud member of