How Dental Veneers Can Perfect Your Smile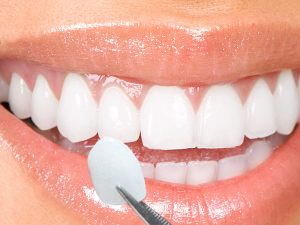 Patients are constantly in search of the safest approach to restoring a tampered smile, especially after their smile has suffered an injury. Even at the emergency dentistry Los Angeles residents visit, they show how distressed they are with the original size, color and the shape of their teeth. Dental veneers may be the best option for the custom smile you have been brushing for. The cosmetic  veneers Los Angeles procedure is not just an appearance enhancer it can be a great improvement in a patient's long-term dental health.
What are Dental Veneers?
Dental veneers Los Angeles patients receive are made of thin layers of porcelain that are capped over the front surface of a single tooth or multiple teeth. Typically, they are used to cover gaps, broken teeth, chipped teeth or for a straighter smile. Dental veneers are also used to address discolored or worn out teeth, since these caps are designed to blend in with the remaining natural teeth, no matter what shade of white the smile currently is.
Why is Veneers Los Angeles Popular?
Porcelain veneers provide a full scope of benefits that go beyond their aesthetic value. A patient's smile is incapable of restoring itself, which is why veneers are designed to preserve healthy tooth structure. One of the main reasons why veneers are popular is because they offer a total smile transformation in almost no downtime at all. Patients find this procedure to be their choice of restoration, since veneers can be capped with minimal modification to the existing teeth.
Secret to Avoiding Stains
There are very few tricks of the trade to help keep your veneers and your smile in great form. Drinking from a straw is a good tactic to avoid staining the tooth's surface from coffee and dark beverages. Avoiding consumption of acidic and sticky foods is also great for tooth enamel. However, the best defense for dental veneers is attending routine dental cleanings and checkups. Respectfully so, the  American Dental Association recommends to attend dental cleanings with your general dentist every six months to prevent dental health issues such as tooth decay, periodontal disease and to detect early signs of oral cancer.
Schedule a Consultation for Veneers Los Angeles
Get the best veneers Los Angeles patients choose most often to revitalize their smile. Today, dental veneers last between 10 and 30 years when patients provide attentive care from their cosmetic dentist's instructions. Dental veneers can make all the difference for you and your smile. Contact our cosmetic dental office for the best treatment at (213) 481-2917.
Dr. Alan Zabolian is a proud member of