Dental Implants: The Best Solution for Tooth Replacement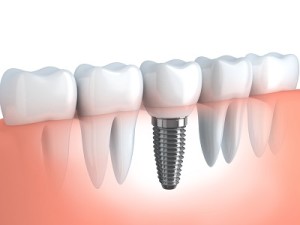 Dental implants are saving teeth one smile at a time. With the increased risk of gum disease, infection or weakening of the jawbone, missing a healthy tooth can cause a number of health issues that no one wants to experience. This is why  dental implants are a safe and simple tooth restoration procedure Los Angeles patients can turn to if they have lost a tooth or multiple teeth.
What are Dental Implants?
Information for dental implants Los Angeles patients can be provided by an experienced cosmetic dentist who takes the time to review your options for tooth replacement. Dental implants are a unique form of tooth restoration that replaces the tooth root with a titanium prosthetic root. After the tooth root is fused with the jaw bone a supportive crown caps the tooth to replace the look, feel and function of the lost tooth. The bone will start to heal around the implant and function without increasing the risk of bone deterioration or future tooth loss.
What Sets Apart Dental Implants from the Rest?
This downtown Los Angeles dentist, along with many other cosmetic dentists, turn to dental implants over other dental prosthetics because the titanium root simulates the impression that a natural tooth is standing in place of a gap in the smile. Dental bridges and dentures are temporary repairs and can be lost, whereas dental implants are permanent and never need to be removed or specially cleaned by expensive dental solutions. Thus far, the chance of tooth deterioration is avoided with a permanent tooth root instead of allowing a gap in teeth to cause further damage in teeth.
An estimated 3 million people in the United States have at least one or more dental implants and with 63 percent of all American adults missing more than one tooth the traditional tooth replacement methods are not what they used to be. According to the  American Academy of Implant Dentistry, the expected number of people with dental implants is expected to become a billion-dollar industry worldwide. That is why patients are opting for dental implants since they can replace multiple teeth in the upper or lower row of teeth for a permanent restoration.
Learn about Your Options with Dental Implants Los Angeles
Dental implants are can be installed in place of a deteriorated tooth or an injured tooth that needs to be replaced. Proper maintenance and care can help reassure that the prosthetic root lasts for life as well as maintain the jawbone's shape and density. If you want to get in touch with the best cosmetic dentist Los Angeles patients trust the most then schedule a consultation today.  Contact our Los Angeles dentist office at (213) 481-2917.
Dr. Alan Zabolian is a proud member of